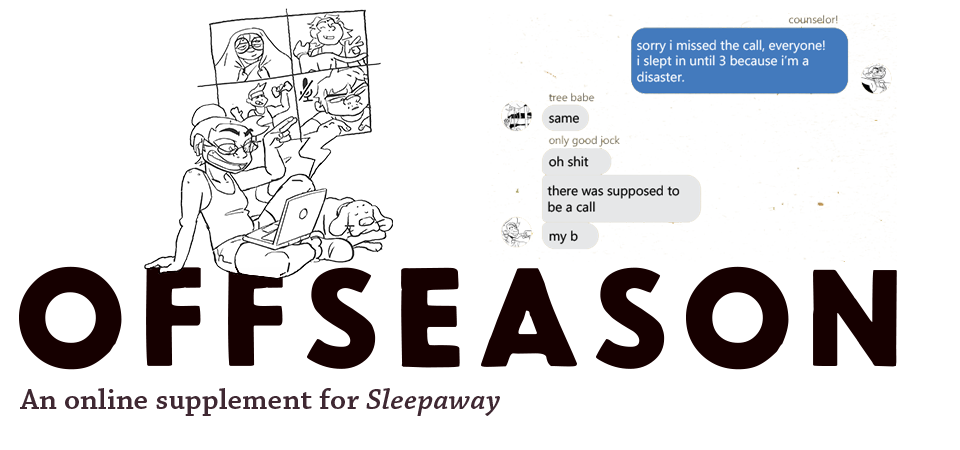 Offseason: A Sleepaway Supplement
A downloadable supplement
In times like these, it's vitally important that we are able to stay connected to each other. Even as Sleepaway grapples with fear and pain, it also imagines a world separate from the corporate and capitalistic influences that are rapidly becoming even more omnipresent in our digital communities. There is a profound relevance to the Lindworm right now, as we grapple with communal trauma on a scale unlike anything we've ever seen before.
So let's play games in whatever way we can, and enter a world where butterflies dance in meadows, campfires cackle and roar, and something Strange is lurking in the shadows...
This very first supplement to Sleepaway is an exciting toolbox and fresh look at the popular Belonging-Outside-Belonging game. It includes:

A guide on how to facilitate and play Sleepaway online, including tips for play both on Roll20 and on other platforms.
The Paper-Skin Hares, a new Strangeness Setting Element, with art by Cam Cherry.
Two new Rituals (Many Small Gifts and Movie Night) that are designed and optimized for online play.
Firefly, a lyrical LARP by one of the campers at my summer camp.
If you're interested in Sleepaway and have never checked it out, you can find it here. This supplement provides additional content for Sleepaway, but is not a complete game on its own.
COVID-19 SALE: This supplement is currently PWYW for the duration of the COVID-19 Quarantine. However, if you can afford it, please buy it if possible. It took time and effort to bring it all together, and because I believe in paying people what they're worth, a fair bit of my own personal expense. I made this because I want everyone to be able to play Sleepaway, even if they're separated by vast distances, not for personal gain. However I'd still really love it if I could come out of this with some money, so do consider tipping!

Purchase
In order to download this supplement you must purchase it at or above the minimum price of $5 USD. You will get access to the following files: