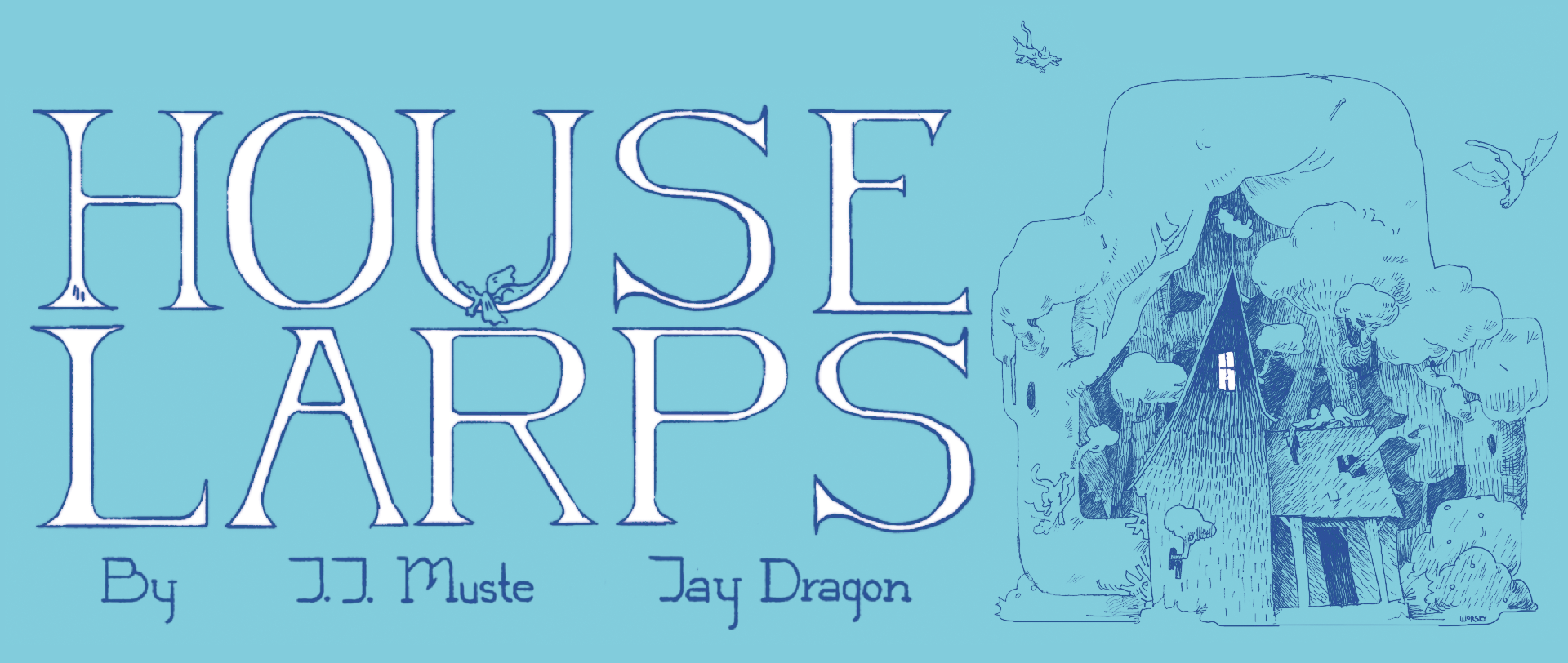 House Larps
A downloadable collection
Games about monstrosity, love, memories, queerness, and all the other baggage that comes with your house.
Born from a shared love for game design and a desire to play games with minimal preparation in unconventional environments, House Larps is a collection of ten games by Jay Dragon and JJ Muste, designed to be played in the comfort of your home with a handful of friends.
The Games
House Goblins by JJ Muste: A group of goblins fight over hoarding random, petty resources.
Queer Messes by Jay Dragon: A queer friend group experiences social collapse during a party game.
Monster Report Card by JJ Muste: Help some monsters grow up, survive school, and become rock stars.
The Disorganized Warlock by Jay Dragon: Fall in love with a Howl's Moving Castle-esque warlock while helping them clean their room!
The Red Toad Café by JJ Muste: Can the chef of this café escape the world of the fey?
The Rake by Jay Dragon: A group of teenagers summon the patron saint of all murderers. What if Bloody Mary larped with you?
Mask Dance by Jay Dragon: Show up at a house party wearing weird masks and confuse everyone by swapping identities.
We Were Dragons, Once by JJ Muste: A game for two people about remembering once being dragons and looking forward to what you are now.
Travels Of The Old Stars by Jay Dragon: A group of ancient gods say goodbye and prepare to travel among the stars.
A Generous Heart by JJ Muste: Another game for two people, about a fallen warrior and a witch who can save their life with kisses.
In total, this collection is 50 pages of different, exciting games for any number of friends. This is the perfect collection for anyone interested in trying out larp and not being sure where to start, or anyone who wants to try out a bunch of games intended for a smaller, more personal setting.
(cover art by Worsey, interior art and graphic design by Jay Dragon)
Purchase
In order to download this collection you must purchase it at or above the minimum price of $20 USD. You will get access to the following files:
House Larp V1.0.0.pdf
11 MB